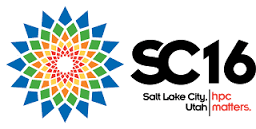 Starting this week, the international supercomputing community will gather in Salt Lake City, Utah for the Supercomputing Conference 2016 (SC16). The event includes six days of timely and informative presentations, papers, tutorials, research posters, exhibits and Birds-of-a-Feather sessions. SC16 gives scientists, engineers, researchers, educators, programmers, system administrators and developers the opportunity to learn about innovative technologies that will shape the future of large-scale technical computing and data-driven research.
IBTA members will be in full force at the show again this year to promote our organization's mission and showcase their InfiniBand and RoCE solutions. In addition, visit any of the following exhibits during SC16 to learn more about InfiniBand-based technologies and see a wide-variety of offerings up close:
• Broadcom (#3677)
• Bull (#721)
• Cray (#1731)
• Dell EMC (#2209)
• DDN Storage (#1931)
• Ethernet Alliance (#1101)
• Finisar (#706)
• Fujitsu Limited (#831)
• Hewlett Packard Enterprise (#1531)
• IBM (#1018 and #1042)
• Lenovo (#2643) • Mangstor, Inc. (#3377)
• Mellanox (#2631)
• Microsoft (#1501)
• Molex (#1947)
• NVIDIA (#2217 & #2231)
• Oracle (#1231)
• RSC Group (#3818)
• Samtec (#2522)
• Seagate (#1209)
• SGI (#1519)
• Supermicro (#1717)
The Future is Bright for InfiniBand and Students of HPC
With a robust ecosystem and an aggressive roadmap for performance increases, the IBTA believes InfiniBand technology will play a vital role in building the future of supercomputing. That said, we expect InfiniBand will make an appearance during the Student Cluster Competition (SCC), a 48-hour challenge where students from all around the world demonstrate the skills, technologies and science needed to build, maintain and utilize a supercomputer. This competition not only highlights each student's technical expertise but also introduces the next generation of engineers to the HPC community overall. Keep an eye out for IBTA representatives at SCC who will be meeting with the students and getting them thinking about InfiniBand technology through IBTA-branded giveaways.
Additionally, the IBTA will be providing updates to attending press and analysts on recent developments and upcoming enhancements to the InfiniBand Architecture Specification. Interested media or analysts can contact press@infinbandta.org to schedule briefings.
For more information on the SC16 program, exhibitors and SCC, visit the event website.