The IBTA Expands Testing to Include Non-member Ethernet Switches and Validates Speeds up to 400G
Ethernet and InfiniBand networks have moved to speeds of 400Gb/s, and we'll see this number double in the coming years. Data center architects face ever-increasing demands to adopt these faster speeds as organizations transform vast amounts of data into business value. As new, innovative, and cost-effective technologies emerge, big data analytics is becoming accessible to even moderately sized organizations. Broad adoption of data analytics drives the adoption of a wide variety of high-performance computing and networking solutions, so collaboration between vendors is necessary to deliver interoperability.
Collaboration is essential as communication protocols evolve and the combination of hardware, software, and the variety of protocols required to support big data continues to grow. Collaborative testing between vendors is core to the IBTA Compliance and Interoperability Work Group, which is why we are expanding our 38th Plugfest to include non-member vendor switches. The one-time 'free' offering allows non-member companies to evaluate the Plugfest benefits and gives IBTA members the advantage of an expanded interoperability ecosystem. Expanding the testing ensures device compliance with the specification and mutual interoperability. Ultimately this helps drive advanced networking performance, enables the development of innovation, and benefits consumers and the industry.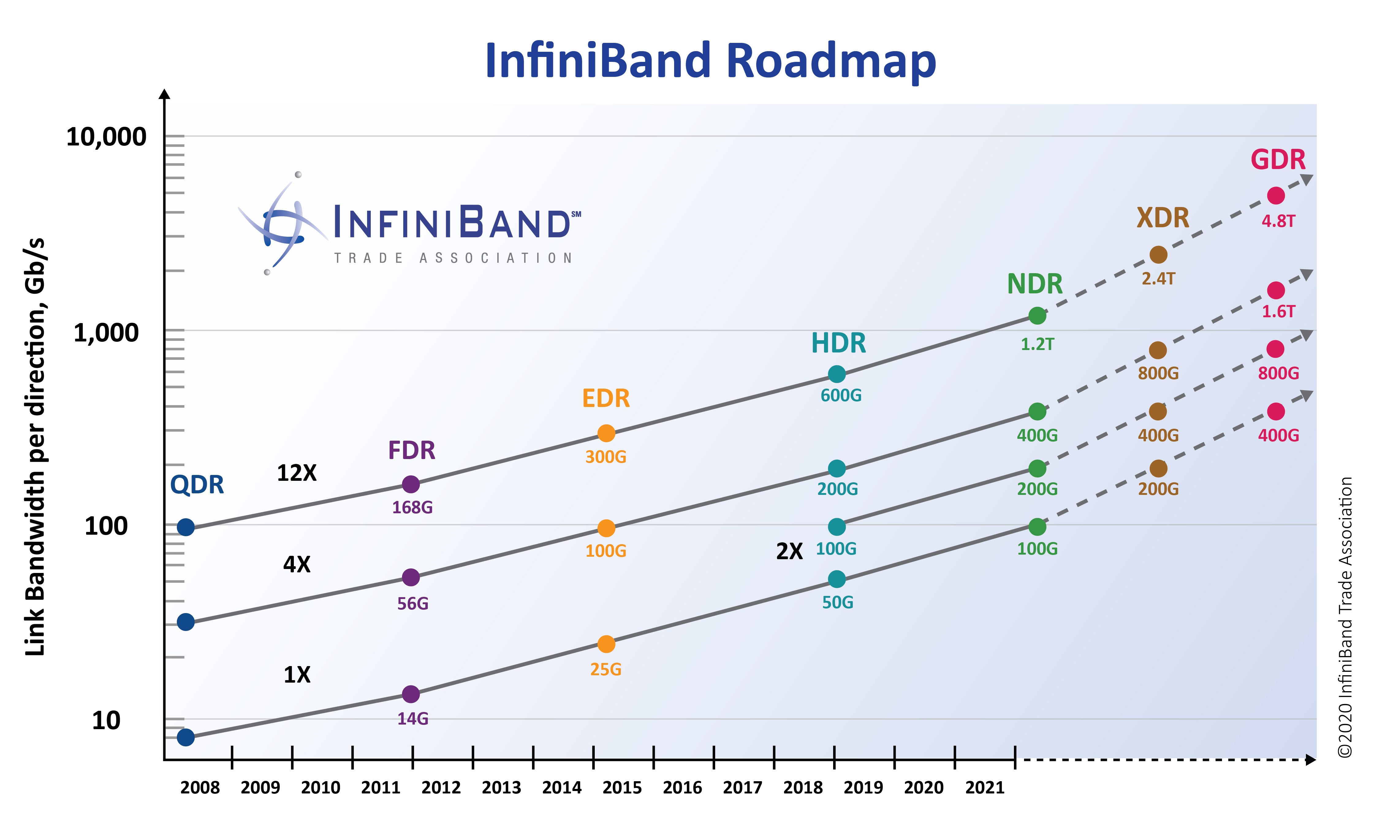 Fig.1 IBTA InfiniBand Roadmap
This May, from the 10th to the 21st, the IBTA will host their 38th InfiniBand Compliance and RoCE Plugfest. The testing is designed to improve product interoperability through multi-vendor interoperability and standard conformance testing. The Plugfest is offered as a complimentary service for IBTA members, who attend for free, and for the first time, non-member switch vendors. This year's two-week event provides a wide variety of test scenarios, including Active Time Domain (ATD), Testing of Active Optical Cables, Device Compliance Testing, Memory Map, Testing of Cable Modules, S-Parameter Testing using Network Analyzers. Interoperability testing using Open MPI and the Intel Benchmark Test Suite will also be used. See the IBTA Methods of Implementation for more details.
A successful interoperability testing outcome demonstrates functional communications between components in accordance with the relevant IBTA specifications. This ensures stable and reliable operation between two or more products from different manufactures and confirms that devices work without any negative operational issues. Today's high-performance networking solutions require this type of testing across vendors and components to ensure seamless integration and deployments.
Products that successfully pass each test case indicate multi-vendor interoperability and specification conformance. While the test results are under NDA and not shared outside the forum, member devices successfully passing all required compliance tests and interoperability procedures will be listed in the IBTA Integrators' List and will be granted the ability to showcase the IBTA Integrators' List Logo. This is an excellent way for those designing, architecting, and implementing solutions based on the latest standards and speeds to evaluate new products and specifications.
We also invite you to join us at Plugfest 38, as it is increasingly crucial that devices coexist securely and safely without sacrificing usability, performance, or the user's experience. Similarly, attending the Plugfest is a standard evaluation process the manufacturer can do to help protect their devices and build their reputation.
To address travel restrictions around the evolving COVID-19 situation, this event will take place at the Software Forge lab in Portsmouth, NH, and attendance by engineers will be virtual. Deadlines, important dates, and further information can be found on the Plugfest page.
The following resources provide additional information about the IBTA Integrators' List Program:
Questions, comments, or any other information related to the Plugfest, please email: ibta_plugfest@soft-forge.com.