Most data centers are starting to realize the benefits of virtualization, cloud computing and automation. However, the heavy I/O requirements and intense need for better visibility and control quickly become key challenges that create inefficiencies and inhibit wider adoption of these advancements. InfiniBand coupled with intelligent fabric management software can address many of these challenges-specifically those related to connectivity and I/O.
Technology analysis firm The Taneja Group recently took an in-depth look at this topic and published an interesting whitepaper, "Foundation for the Converging Data Center: Intelligent Fabric Management." The paper lays out the requirements for intelligent fabric management and highlights how the right software can harness the traffic analysis capabilities that are inherent in and unique to InfiniBand to make data centers run a lot more efficiently.
Another interesting InfiniBand data point they shared: "in a recent Taneja Group survey of 359 virtual server administrators, those with InfiniBand infrastructures considered storage provisioning and capacity/performance management twice as easy as users of some of the other fabrics (Taneja Group 2009 Survey of Storage Best Practices and Server Virtualization).
The High Performance Computing Center Stuttgart (HLRS) is one organization that has benefited from using 40 Gb/s InfiniBand and Voltaire's Unified Fabric ManagerTM software (UFMTM software) on their 700-node multi-tenant cluster, which basically operates as a cloud delivering HPC services to their customers.
Look forward to seeing many of you at Interop in Las Vegas next month!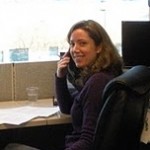 Christy Lynch
Director, Corporate Communications, Voltaire
Member, IBTA Marketing Working Group